Sukumar Bose (1912-1986)
ARCHIVES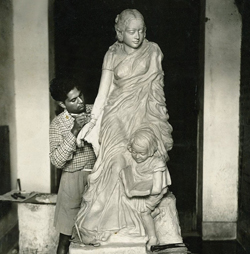 (Above) With Lady Edwina Mountbatten & Others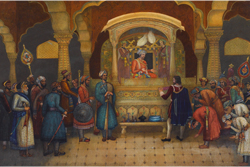 Sir Thomas Roe in the Court of Jahangir, 1970s
watercolour; (Private Collection)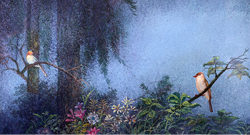 Misty Morning; 1984
watercolour; (Private Collection)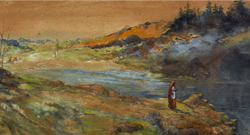 Landscape; 1974
watercolour; (Private Collection)
(Above) Nativity, commissioned by the Vatican
watercolour; (Private Collection)
Working on the mural in Rastrapathi-Bhavan
Bose, receiving the Silver Shield
from President Dr. Zakhir Hussain, 1969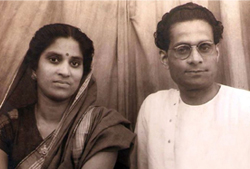 Bose with wife
Bose with family
Sukumar Bose was born on 12 May 1912 in Lucknow, Uttar Pradesh, India, to Sanat Kumar Bose and Bina Pani Bose. Bipin Behari Bose, Bose's paternal grandfather, was a successful lawyer at the Lucknow Bar and a relative of the freedom fighter, Subhas Chandra Bose. The Boses, with affiliations to the Brahmo Samaj movement - a monotheistic religious concept favoured by the Indian intellectuals and literati at the time - were an influential upper-middle class Bengali family who were actively involved in promoting Bengal art and culture in Lucknow.
The boy Sukumar showed an aptitude for painting and clay and wood modelling. With time, these interests developed into a passion for the fine arts – painting and sculpting in particular.
Asit Kumar Haldar, probably one of India's more eminent artists and proponent of the Bengal School's art form and style, became a good friend of the family's after he arrived in Lucknow to head the Government Art College. Haldar was himself a pupil of another great artist, Abanindra Nath Tagore. Haldar was born in 'Tagore Family' and was educated under the direct guidance of Rabindranath at Shantiniketan (now known as Visva-Bharati University), a hallowed place of intellectual thinking and ideals started by Tagore and one that Bose was to visit many times as a young man.
With a keen eye for talent, Haldar recognised Bose's potential and, with the blessings of his family, enrolled him at the Government Art College where he studied art under Haldar's personal supervision. This was to prove the beginning of an illustrious career that saw Bose contributing to the development of India's art and cultural scene and earning the respect of government leaders and art critics alike. Demonstrating his artistic flair, Bose participated in several exhibitions before he graduated and won praise for his work. "Shadow of Death" was named "the best study by a student of an art school" at the All India Competition in September 1931. In November of that year, Bose's "Misty Morning a certificate of merit under the fine art section at the Mysore Dasare Exhibition.
In 1932, aged only 20, Bose was appointed art teacher at the Modern High School Delhi, having already established a name for himself as a budding student artist. The school was a stalwart institution founded on the British Public School Model by Raghubir Singh, the only son of Rai Bahadur Sultan Singh, of the richest men in Delhi at the time and a well-known philanthropist.
Bose and Singh established a firm friendship based on mutual respect and trust, and Bose accompanied Singh on his many travels around India to meet with other intellectuals who were deeply in favour of an independent India. This included the legendary Mahatma Gandhi and Tagore.
As Bose's intellectual horizons expanded, so, too, did his art. Enkindled by the drive and zeal of these great figures, he channelled this energy into his art, giving voice to the beauty of the everyday, through his depictions of untouched landscapes and the purity of village life.
Bose's style of art varied from the traditional to the decorative and ornamental, with a hint of the Oriental flavour. His work demonstrated traces of the Bengal School styles of Abanindra Nath Tagore and A.R. Chugtai. His wash technique added to the poetic aura of his paintings; the transparent and translucent pigments giving luminosity and volume to his figures and landscapes. Some of his works titillate with the romantic nuances of miniature art. Bose synthesised the decorative elements of Indo-Persian miniatures with Chinese and Japanese wash techniques. In this context, his vision and passion were inspired by traditional art forms including Ajanta, Rajput and Mughal miniatures.
Bose also ventured into modern art by blending old and new techniques. However, he always adhered to academic and classical principles of realism. A product of his education, Bose was more of a traditionalist, preferring realism to the more abstract styles of interpretation. Described by The Bombay Chronicle as a "versatile artist", Bose was a firm believer in the learning of technique. To him, anyone who argued otherwise was merely incapable of withstanding "a steady and strenuous physical and intellectual hardship."
Bose worked with a variety of subjects such as Indian mythology motifs, landscapes, portraits and studies of village life and animals. His collection of landscapes has been described as being his most significant because they offer insight to a man who was intimately acquainted with Nature and acutely aware of the world around him. In the face of endemic corruption, wars, famine and the existing harsh realities of life, Bose's creativity can be interpreted as his mission to transcend these vicissitudes. His works on Buddha and Jesus, for example, can be seen to be messages of hope.
Each of Bose's works was a painstaking study of form, rhythm and natural beauty. Birds in flight, animals, plants, flowers, mountains, mist and clouds and people came alive in his paintings, their energies delicately pulsating and resonating, and portraying a clear harmonious balance between Nature and Man, inner and outer worlds, Yin and Yang.
A firm promoter of Indian art and culture, the tireless Bose continued to teach art, participated in joint and solo exhibitions of his work and helped to establish the All India Fine Arts and Crafts Society (AIFACS), the precursor to what is today's state-run Lalit Kala Academy. As an active member of the AIFACS, he was involved in the publication of Roopa Lekha, a bi-annual art journal, progressive for its time.
Bose's standing as an important architect of the country's artistic and cultural landscape received the firm patronage of Lady Edwina Mountbatten, wife of the Viceroy of India, Lord Louis Mountbatten, in pre-Independence India.
So much so that his paintings form part of the late Mountbattens' private collection at Broadland House, Romsey in Hampshire in the United Kingdom. It therefore seemed a natural progression that Bose should be appointed Curator of Paintings at Viceroy House (now known as Rashtrapati Bhavan or the Presidential Palace) in Delhi in 1945, a position that he held even after Independence until 1972 As Bose's celebrity grew from strength to strength, he continued to make a name for Indian art, not only within the country, but also internationally.
In 1950, he was commissioned by the Venerable Pope Pius XII, head of the Roman Catholic Church at the time, to produce a piece in the Indian style on a Christian subject. This piece, "The Nativity – The Birth of Christ" is housed at The Vatican.
Between 1952 and 1960, Bose conducted numerous solo exhibitions in countries including the United Kingdom, the United States of America, Australia, Italy and the former Soviet Union. Several of his outstanding paintings found their place in Indian embassies and private collections. Some pieces were also acquired by the governments of Brazil, Egypt and Iraq. One of his religious interpretation pieces, one depicting the life of Buddha was to Vidayalankar University in Sri Lanka.
In addition to creating murals and frescoes that now adorn the walls and ceilings of Rashtrapati Bhavan, Bose was responsible for art restoration and preservation and honed his skills in this field with advanced study in the former Soviet Union. Bose's talents were also regularly called upon by successor prime ministers and presidents who resided at Rashtrapati Bhavan post-1947.
Many of his delicately designed invitation cards, dinner settings and interior decoration, as well as coats of arms, were valued by illustrious figures including Jawaharlal Nehru and his daughter Indira Gandhi, and many an army commander such as General Cariappa who opened one of Bose's solo exhibitions in Delhi in 1948.
Bose's years of service as an artisan culminated in his being awarded the "Silver Shield" in 1969 by President Zukir Hussain and the prestigious Padma Shri accolade in 1970, by President V.V. Giri. ThePadma Shri Award is awarded in India for contributions made to various areas including art, science and culture. When he retired in 1972, Bose was appointed honorary art advisor to President Shri V.V. Giri; a position he held until 1974.
Despite their relative affluence, the Boses lived a simple life, more concerned about cerebral, visceral pursuits and working with and for the community than flaunting their wealth openly or materially. Bose's father passed away when Bose was only 22 and the young man found himself suddenly in charge of the household. The significant responsibility of providing for his seven brothers and mother fell on Bose. This was to shape his mindset to the extent that survival was the reason for earning a wage; accumulating wealth was never his motivating factor.
In 1936, Sukumar Bose married Bela Chaudhury with whom he had three children; Kamal, Altu and Debashish.
Typical of the time in which Bose's children were growing up, there was little interaction with their father, "speaking" with him largely through their mother. She was the centre of their world and she managed the finances for the family as well as supervised their care and education.
Yet, the eldest, Kamal, remembers him as being a caring husband and father who provided well for the family, but who also insisted on a strong grounding in reality. Even if they were comfortable, life was simple. Bose's art was his passion and religion. He created beauty on canvas because he chose to, and sold his paintings because he had to.
Bose passed away peacefully on 10 November 1986 in New Delhi. But his legacy lives on in his prolific collection of paintings and sculpture; the activities that he helped to spearhead in an India striving for cultural progress; and conversations that he had with some of India's finest figures.